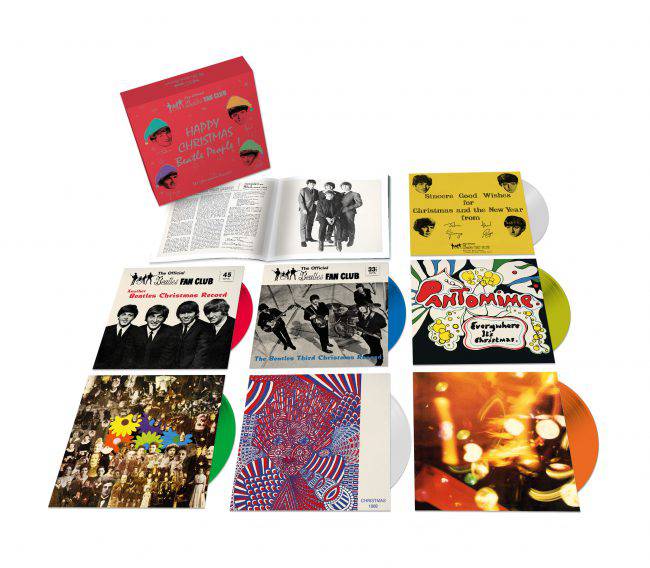 I fan dei Beatles si chiamavano Beatle People e, ogni anno, la band a Natale dedicava ai membri del fanclub un messaggio e un regalo. Così per sette anni, dal 1963 al 1969, i membri di questo gruppo chiuso di fan dei Beatles, hanno ricevuto delle registrazioni di Natale dei Beatles che, ogni dicembre, venivano stampate su flexi disc e spedite ai fan. Fino ad oggi questi messaggi erano riservati ai fan, invece ora sono stati stampati in sette vinili di colore diversi e raccolti in un box natalizio dei The Beatles intitolato The Christmas Record che uscirà il 15 dicembre. Ogni vinile verrà inserito in una busta che ha come "immagine di copertina" l'artwork originale e un booklet di 16 pagine che spiegano meglio la registrazione sulla falsa riga della newsletter inviata all'epoca ai membri del fanclub.
Se vuoi conoscere tutte le Canzoni di Natale per una compilation, per i bambini o per sapere quali sono i canti natalizi tradizionali e le ultime novità allora leggi anche:
Sgt. Pepper's Lonely Hearts Club Band, la ristampa
Sempre il 15 novembre uscirà anche la Deluxe Anniversary Edition di Sgt. Pepper's Lonely Hearts Club Band in HD Digital Audio, con il mix in stereo del 2017 e ben 18 tracce bonus, tra cui "Penny Lane" in stereo e strumentale, e due alternate takes di "Strawberry Fields Forever".
Non ultimo, Sgt. Pepper's Lonely Hearts Club Band 2017 stereo mix uscirà anche in 2 nuove versioni in vinile: singolo LP nero 180g e in Picture Disc limited edition.
Perchè questo disco è così importante?
Sgt. Pepper's Lonely Hearts Club Band viene considerato un must have. È l'ottavo album dei The Beatles, è stato pubblicato nel 1967 e prodotto da George Martin. Questo disco è uno dei più famosi della storia del rock nonchè uno dei primi concept album della musica rock. Parlando di numeri Sgt. Pepper's Lonely Hearts Club Band  ha venduto 11 milioni di copie negli Stati Uniti e trentadue milioni in tutto il mondo.
La tracklist
Lato A
Sgt. Pepper's Lonely Hearts Club Band (Lennon-McCartney) – 2:00
With a Little Help from My Friends (Lennon-McCartney) – 2:43
Lucy in the Sky with Diamonds (Lennon-McCartney) – 3:26
Getting Better (Lennon-McCartney) – 2:47
Fixing a Hole (Lennon-McCartney) – 2:35
She's Leaving Home (Lennon-McCartney) – 3:33
Being for the Benefit of Mr. Kite! (Lennon-McCartney) – 2:35
Lato B
Within You Without You (Harrison) – 5:05
When I'm Sixty-Four (Lennon-McCartney) – 2:37
Lovely Rita (Lennon-McCartney) – 2:41
Good Morning Good Morning (Lennon-McCartney) – 2:42
Sgt. Pepper's Lonely Hearts Club Band (Reprise) (Lennon-McCartney) – 1:19
A Day in the Life (Lennon-McCartney) – 5:34